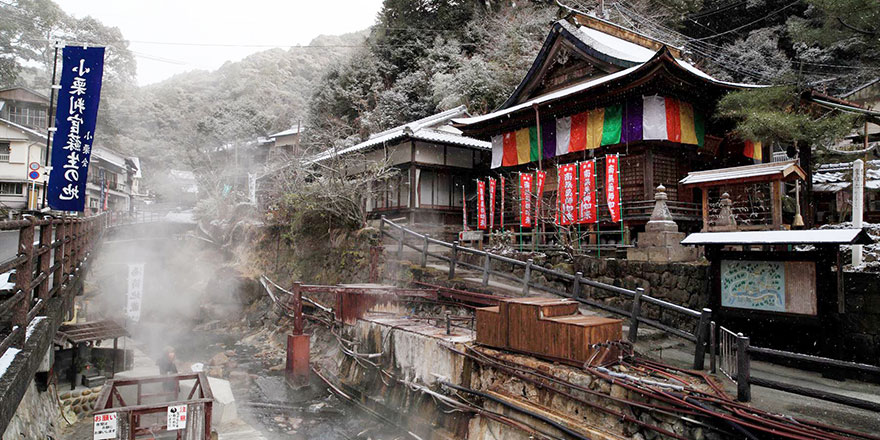 Yunomine Onsen District
(Water quality: Sulfur, Na, hydrogencarbonate, 92 degree; Effective against when drunk: Digestive disorders, diabetes, gout, women' s diseases, etc.; Effective against by bathing: rheumatism, nervous disorders, skin diseases, diabetes)
Yunomine Onsen District, commonly called Japan' s oldest spa, is also the stage for Hangan Oguri and Princess Terute that became famous through the super-kabuki theater.
Tsuboyu has joined the World Heritage list, became the world's first public hot bath in World Heritage sites.
Camping is not allowed in the entire Yunomine District.
Cooking in parking lots is also strictly prohibited.
Hot Well
(along riverside just beneath the Yunomine Onsen bus stop)
The water gurgling from this well is a hot 90 degree. Everyday you can see eggs and vegetables boiling in nets dangled from the wooden frame around the well. The eggs and vegetables can be purchased at the Yunomine Baiten or Ran souvenir shops.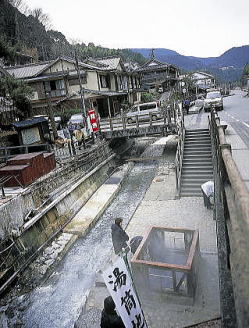 Tsuboyu
(along riverside just beneath the Yunomine bus stop)
It is said that Hangan Oguri was restored to health in these waters. It is also said that the water changes color seven times a day. Bathing is done in groups. Make requests at the Yunomine Public Bathhouse down the road. Adults: ¥800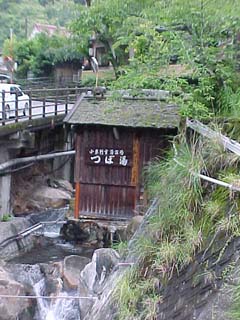 Toko-ji Temple
(next to the hot well)
Toko-ji Temple is located next to the Yunomine Public Bathhouse. On the grounds is a stone monument erected to Monk Genpo, a high priest who was born and raised in Yunomine.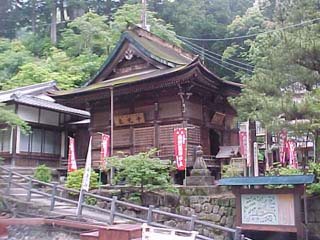 Yunomune Tea House
(next to Toko-ji Temple)
This tea house is located next to Toko-ji Temple. Here, you can enjoy zenzai and anmitsu (sweet red bean broth with rice cake), udon (wheat noodles), soba (buckwheat noodles), onigiri (rice balls), mehari (rice rolled in pickled mustard greens) and much, much more.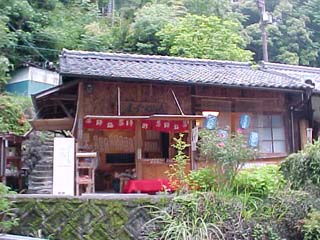 Ran Souvenir Shop
(across from the hot well)
This gift shop sells eggs and vegetables for boiling at the hot well, plus Yunomine water and other souvenirs. (0735-30-4186 *Call in Japanese)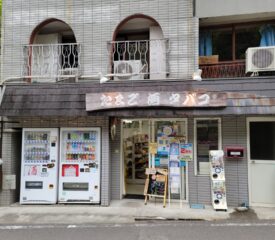 Onsen Tamago
(Onsen-boiled Eggs)
These fresh eggs are for boiling in the hot well. (Note: The eggs are not already boiled when sold.)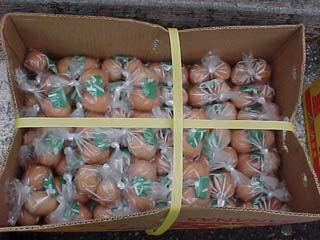 Notice
There is a parking lot at the entrance to Yunomine Onsen.
It is reserved for parking and should not be used for camping or barbequing.
A large signboard in the parking lot states that camping is prohibited.
This is a public facility, therefore please abide by the rules.
Yunomine Onsen Map