The Yunomine Public Bathhouse and Tsuboyu are located roughly in the middle of Yunomine Onsen.
Yunomine Onsen is not only one of Japan' s oldest Onsen, but it is also known as the bathing spot along the pilgrimage to Kumano and the place where Ogurihangan recovered from illness.
The public bathhouse has plain baths, medicinal baths, rental baths and rest areas. You can also fill containers with the local water to bring home with you. (¥100 per 10L)
Nearby is the hot well where the water is almost 90 degree. Here, you can easily boil eggs and vegetables. (Eggs and vegetables are sold at nearby stores.)
The Tsuboyu bathhouse is closely associated with the Kumano faith. Thuboyu is resistered with a World Heritage.
The bath has been carved from natural stone and sits in a boarded enclosure. It holds only 2 or 3 people at a time. Turns are taken every 30 minutes so groups can bathe. Moreover, it is unique in that the water changes color seven times a day.
Get a number (bathing time) at the public bathhouse desk and wait your turn to bathe.
Yunomine Public Bathhouse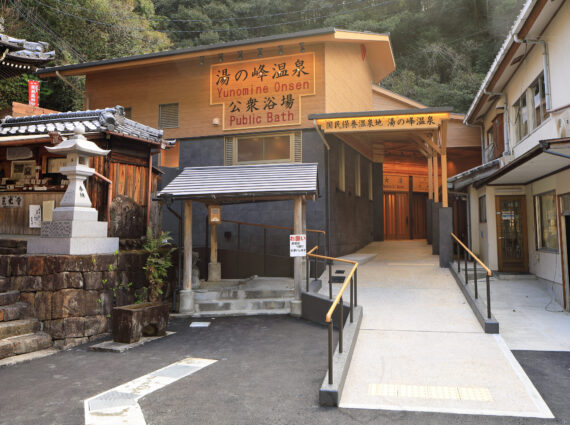 Tsuboyu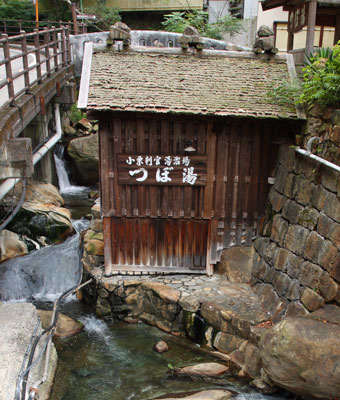 Camping is prohibited on the Yunomine Onsen District.
Barbequing is also strictly prohibited in the parking lot.
Hot bath charges
Yunomine Public Bathhouse
Types of hot bath
Public Bath
One each for men and women
Kusuriyu(Medicine Bath)
One each for men and women
Kazokuyu(Private Bath)
Charges: Adult
¥400
¥600
¥700
Charges: Child (Under12)
¥200
¥300
\300
One-Day Pass: Adult
None
\800
None
One-Day Pass: Child(Under12)
None
\400
None
12 Coupon Tickets: Adult
\4000
\5000
None
12 Coupon Tickets: Child(Under12)
\2000
\2500
None
Open
6:00 AM – 9:00 PM
6:00 AM – 9:00 PM
6:00 AM – 9:00 PM
Closed
None
None
None
Tsuboyu
| | |
| --- | --- |
| Types of hot bath | Tsuboyu Mixed bathing |
| Charges: Adult | ¥800 |
| Charges: Under12 | ¥400 |
| Open | 6:00 AM – 9:00 PM |
| Closed | None |
Others
Please buy ticket by 8:30 PM 
Tsuboyu, Kusuriyu and Kazokuyu charges include public hot bath charges.
Tsuboyu and Kazokuyu are private use for 30min.
| | |
| --- | --- |
| Tel | 0735-42-0074 *Call in Japanese |
| Parking | 100 cars (next to Takiyoshi Guesthouse) |
| Water quality | Sulfur, Na, hydrogencarbonate, 92 degree, colorless |
| Effective against | Rheumatism, nervous disorders, skin diseases, diabetes, etc. |