Welcome to World Heritage "Kumano Kodo"
World Heritage "Sacred Sites and Pilgrimage Routes in the Kii Mountain Range"
All roads Lead to the sacred site of "Kumano Hongu"
From ancient times to the Middle Ages, the faith instilled by the Kumano Sanzan of Hongu, Shingu and Nachi was at a peak and many believers ranging from emperors and nobles to the commoner made their pilgrimages to Kumano.
In those days, the journey involved much more than crossing steep mountains along tortuous remote trails; it was a path of continual worship along which the traveler cleansed his body and mind in frigid waters of a winter morning and earnestly invoked the help of the Kumano deities and Buddha at every turn.
Kumano Kodo offers you the chance to imagine what it was like to pilgrimage to Kumano long ago, absorb the history of Kumano and pass it down to future generations.
After the hard and painstaking journey, you'll feel purified inside as you climb to Kumano Hongu Taisha.
Come make your journey of faith to Kumano.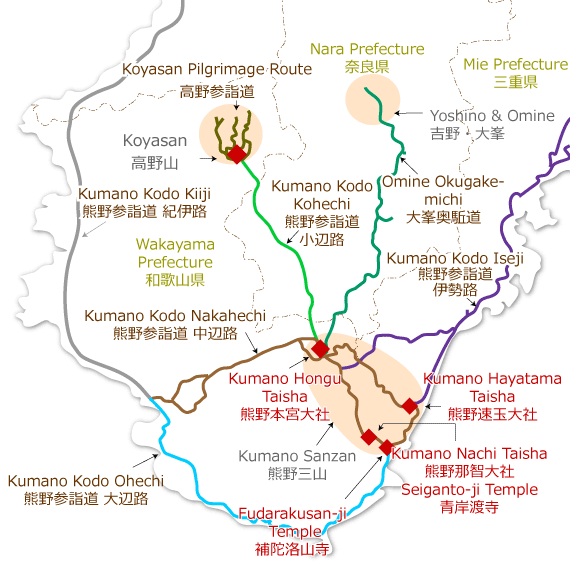 When walking on the pilgrimage roads in the Kii Mountains, such as the Kumano Kodo, please follow the "Ki Mountains pilgrimage rules".
Hangan Oguri story became legend and was told time and time again.
Rules at World Heritage
"Sacred Sites and Pilgrimage Routes in the Kii Mountain Range"
The "Sacred Sites and Pilgrimage Routes in the Kii Mountain Range" were named a World Heritage on July 7, 2004, because of the vast historical assets covering the three prefectures of Mie, Nara and Wakayama, and the cultural landscape that has been nurtured on the bonds between mankind and the natural environment.
Rules have been set on walking the pilgrimage routes in order to preserve this irreplaceable heritage and pass it down to future generations. Please observe these rules while walking the trails so that people all over the world can enjoy and come closer to the wonders of this exceptional heritage.
Protect the area as a "Heritage of All Mankind".
Respect the faith of worshipers of long ago.
Greet others with a smile and warm heart.
Protect the local wildlife. Do not remove or introduce animals or vegetation.
Plan your trip and equip yourself with ample leeway so as to avoid accidents and mishaps.
Stay on paths
Prevent forest fires.
Keep the paths clean. Carry all waste back with you.