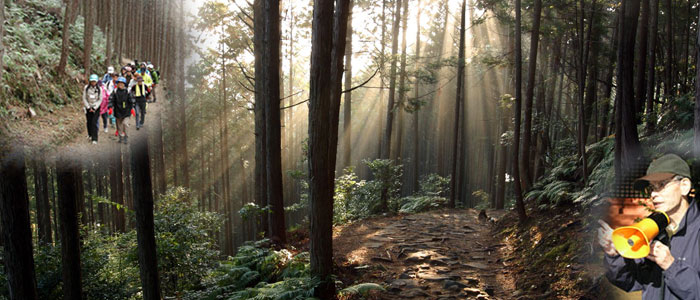 At present (as of January 1, 2005), there are 34 registered storytellers who serve as guides along Kumano Kodo and the group is primed with some unique personalities: one who compiled a history of the town, one who photographs blossoms along the way, one who is knowledgeable of Hangan Oguri, one who is versed in the history of Hongu, and more. If you think you need a guide to walk you through Kumano Kodo, apply here.
Topics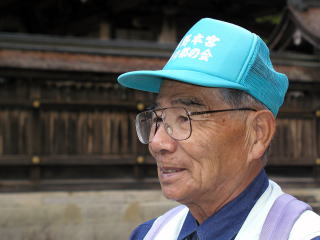 Isao Sakamoto, head the Hongu Storytellers Circle, was selected to Charismatic Storyteller whose hard efforts are directed at keeping Kumano Kodo a popular tourist venue.
The "100 Charismatic Tourist Guides" selection committee of Japan Tourist Policy, Ministry of Land Infrastructure and Transport, selects as charismatic tourist guides the pioneering people who have helped promote their local tourism. The policy is intended to learn from their efforts and to train local staff for tourism promotion.
Now Isao Sakamoto, the Chief of Hongu History Compiling Office and the Chairman of Hongu Storytellers Circle, has been selected as charismatic tourist guide for supporting Kumano Kodo's popularity.
He has rich knowledge and is hectic these days with town history compilation, lectures, Kumano Kodo walk, TV appearance and many others. Finding time from such busy days, he is committed to training freshman storytellers.
When selected, "I feel responsible for a charismatic tourist guide. Feeling embarrassed, feeling honored. I keep my activities as usual," Sakamoto said to us.