Coin lockers are available in Hongu. It is located on the main road, opposite to the main entrance of Kumano Hongu Taisha.
Use the lockers to store your luggage so that you can walk around freely without heavy luggage.
You can visit Kumano Hongu Taisha on foot and only 10minitues to nearby Onsen by bus.
<8 large-sized \ 500yen, 6 midium-sized \400yen,8 small-sized \300yen>
We hope that you enjoy your stay in Hongu!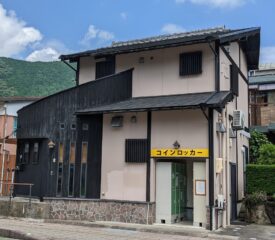 For security reasons, these lockers are available from 8:00 to 18:00.